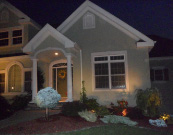 Welcome
to G4 Electric, LLC
Welcome to G4 Electric, LLC, where we provide a complete range of electrical contracting services for new constructions, renovations, tenant improvements and many other types of buildings throughout Connecticut. Whether you need a ceiling fan installed or need your entire house rewired, we have the skills, manpower and knowledge to do it seamlessly and exactly to code.
We have established an impeccable reputation for total professionalism and stand behind each of our employees to be completely honest and ethical in all their customer interactions.
Call us to schedule a service or a consultation today.
OUR COMPANY
At G4 Electric, LLC we are your best choice in Connecticut, no matter what type of electrical service you are looking to have done.
Over 20 Years of Experience
Fully Licensed and Insured
Specializing in service changes & upgrades